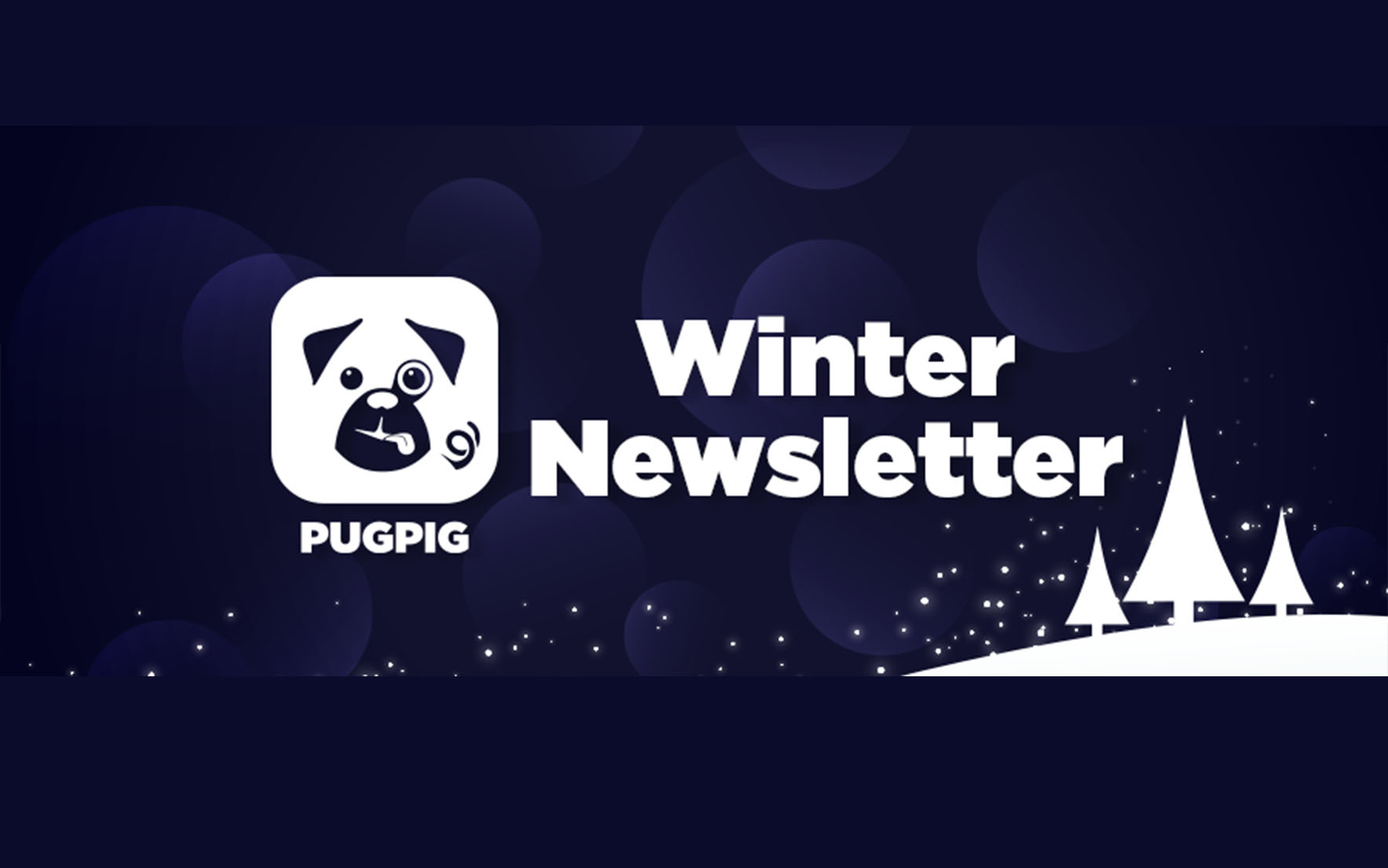 It's getting chilly and as we fast approach Christmas we're looking back on a few busy months since we last spoke.
If you were there, you'll know that we held our best ever annual Pugpig Customer Event on 7th November where we spent the day in great company talking about the future of publishing. If you weren't, here's what you missed:
We chatted with Alison Dolan about News UK's approach to dealing with the big platform players and how The Times found its way onto Apple News +.
We heard Esther Kezia Thorpe, Douglas McCabe and Lorenza Binkele debating passionately about the relative merits of micropayments while we all wholeheartedly agreed that we can keep subscription fatigue from the door as long as we're offering products that people really want to read.
Tim Rowell showed us how to maximise the efficiency of our subscription funnels and explained how readers need to see an offer five times before they'll act on it (and that you should be giving readers no more than 10 pages of free content in a month).
Lucy and Harry gave us a wonderful roundup of all the things our product team have been working on over the last 12 months (more of which you can see below) and we got a peek into the dark mind of our CTO when Jon presented us with a whirlwind tour of how publishing technology has changed since James Bond and Dr No first hit our screens in 1962 along with what delights are in store for us (and Daniel Craig) in the coming years.
So, if you weren't there, you should have been! But don't worry, you'll have your chance next year we promise…
Now as we turn to the end of the year and start to plan for a big 2020, we wish you a leafy rest of Autumn, a Merry Christmas and a Happy New Year of the Pugpig!
Jonny and Jon
Product Update from Lucy and Harry
Autumn is always an interesting season for the development team here at Pugpig. We're generally greeting new versions of iOS and Android with a familiar mix of excitement and mild trepidation, along with the bevy of new devices that showcase them. This year was a smooth one on that front, with iOS 13, iPadOS 13 and Android 10 (RIP, sweet nicknames) serving only to elevate the Pugpig experience.
With that behind us, we devoted our focus to a handful of features and improvements that should cheer you up as the sun does its absolute best to avoid you over the coming months.
PUGPIG SITE

There's been plenty of exciting work happening around our newest Pugpig product, here are the highlights.
The Pugpig Site CMS is proudly powered by WordPress and this means we benefit from all the features that WP offers. This includes the new Gutenberg Block editor that allows pages and posts to be created with a drag-and-drop page builder and an improved visual experience centred around helping you understand what your content is actually going to look like in the wild. WP handily provides us with a library of these blocks to get you started, including essentials such as text and images as well as more advanced options like tables and buttons, we've also been working on a growing block library of our own that'll help you easily create rich content tailored to the Pugpig Site experience.
We've also been working hard developing a new Pugpig Site theme that allows clients to get up and running as quickly as possible. With a few clicks and a little bit of code we can incorporate a brand's style and create the basis of your new site. If you need a bespoke design, no problem – we can do that too!
The improvements don't stop there, our SEO integrations mean you have full control over how you're presenting your content to the world, and our analytic tools are there to help you make informed decisions about your content and site strategy.
PUGPIG BOLT

Our focus on Bolt recently has been firmly on the commercial aspects of our user experience. We've been doing what we can to ensure that our funnels are frictionless and fancy-free and that users know what they're buying and why they're buying it.
Firstly we've pumped up our onboarding screens to not only give you more space to get your message across but also to dive into specific actions right from a screen. Discussing subscriptions? Bang a buy button right on the page. Pushing your push notifications? Allow users to opt-in there and then.
Next, we've expanded the flexibility you have in designing your subscription and sign-in screens. Include the messaging you need and help your offers to stand out while still maintaining your brand's distinct look and feel.
Our subscription linking tech has also received a lot of love over the past weeks. We believe this is critical in closing the loop between the convenience of in-app purchases and the power of a tighter, membership-focused relationship with your users. We've worked to make this journey both prettier and more responsive, helping squash any pain points that might deter users.
PUGPIG PUBLISH

Most of our focus on Publish has been to prepare it for the future. We've raised our minimum supported versions to iOS 10 and Android 4.4, rebuilt a lot of our underlying display tech on iOS to meet Apple's recommendations, all in the name of speed and stability.
Mainly, though, we've been planning the next steps for Publish. We've lined up the biggest change to the platform's UX since it launched, a change that not only streamlines navigation throughout the app but also brings an entirely new dimension of flexibility to the way your app is configured. We'll have more to show on this soon, but here's a tiny preview of what these changes might look like.
ANALYTICS

Google Analytics is dead, long live Firebase Google Analytics. Google's decision to deprecate the Google Analytics SDK finally comes to pass on Halloween and we've been working hard to ensure our customers don't lose access or insight. We've migrated all of our analytics tracking to Firebase and rolled out updates to all affected customers. It's far from a straight 1:1 replacement, so we've also been brushing up on our Firebase knowledge, ready to help you get to grips with the new metrics and dashboards.
INTEGRATIONS

As always we've spent a fair chunk of time investigating and integrating with the services your business relies on. Recent weeks have seen us focus, inadvertently, on the letter A, with Appsflyer and Adobe Analytics and Push Notifications now improved or available.
Appsflyer is one of the most popular marketing attribution platforms out there, and our integration will help you determine what's driving your installs and how these users behave in your app thereafter.
Adobe offers a veritable horde of tools, and we've offered Adobe Analytics as a custom integration for some time on Pugpig Publish. We've now developed an out of the box implementation which enables you to get up and running with our standard event tracking in no time, as well as adding support for Push notifications, handled by the Adobe Experience Platform.
Latest Pugpig-powered app releases
CONDÉ NAST INTERNATIONAL
We're happy to say that Condé Nast now use Pugpig for their digital editions across their portfolios in Great Britain, USA, France, Germany, Russia and Taiwan. A total of 38 apps, from Vogue, GQ and Wired to Architectural Digest, Tatler, Glamour and everything in between. Each market has their preferred way of working with Pugpig. Check out a couples of examples – The New Yorker on iOS, and GQ Russia on iOS.
---
POETRY OUT LOUD
Team Pugpig were with the Poetry Foundation every step of the way, launching a completely rebranded website with a beautiful new design, a lightning-fast poem search function, and a Pugpig Bolt app version of the service launching in the coming weeks.
---
INDEPENDENT PREMIUM
The Independent re-launched their live mobile app on Pugpig Bolt. The brand has changed from Independent Minds to Independent Premium, and the app itself has had a complete overhaul. It has a beautiful feature-led home screen, events integration, a dedicated puzzle section, downloadable books and supplements along with all the section based news and entertainment. Download here for iOS and Android.
---
INEWS UK – JPI MEDIA
We're thrilled to announce another big win for the Pugpig team, this time launching the inews UK app for JPi media. Although using the Pugpig Bolt platform, inews UK runs on an edition model. Readers receive a new edition at midday, 5pm and midnight, with the latest stories ready for the morning, all delivered through a customisable news feed alongside a mix of addictive interactive puzzles. Download here for iOS and Android
---
GOLF DIGEST
Discovery Inc. successfully migrated Golf Digest Magazine from Adobe DPS to Pugpig Publish. This followed the purchase of the magazine from Condé Nast earlier in the year. After selecting Pugpig, the Discovery team were able to launch the digital edition in just four weeks, and with the new app pulling content straight from Golf Digest's print edition, there's almost zero editorial work required to publish each edition. Download here for iOS.
---
GEOLINO
Pugpig and InceptionXR just launched an exciting new Augmented Reality magazine app for the Gruner and Jahr kids' favourite, GEOlino Magazine. This is the first time that we've created a fully AR digital edition. Readers can switch from reading the regular magazine from page to page to immerse themselves in an interactive world of nature and wildlife.
Download here for iOS
---
Upcoming events
Product roadmap board meeting | Date to be announced
Details to come soon