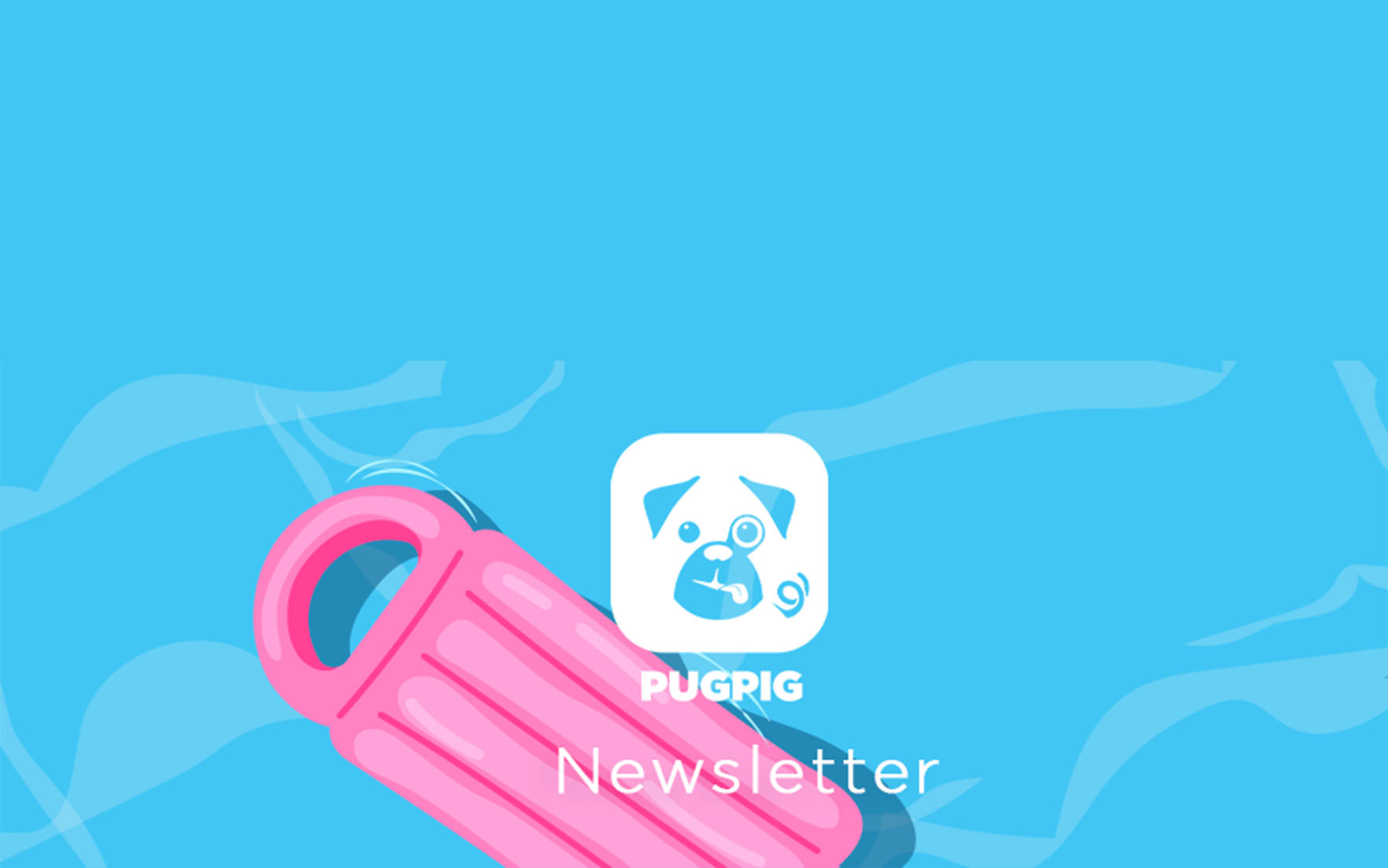 With any luck, you've spent a decent portion of the last month either reposing in a deckchair with the sun on your face and a cool drink by your side or halfway up a mountain with a rucksack on your back and a sense of adventure in your heart. And now that you're firmly back in the office sitting alongside your own personal mountain of unread emails, we thought we'd lighten your life with a little update from your favourite hybrid publishing platform. So here we go…
As we promised in our last update, we've been busy launching websites and apps for Newsquest, JPi Media, Springwise, Hearst, the Financial Times, Poetry Out Loud and Condé Nast. And while we've been powering apps for Condé Nast Great Britain for a few years now, this summer marked a significant deepening of our relationship with the publishing giant, with Pugpig taking on the entire Condé Nast portfolios across France, Germany, Taiwan, Russia and the USA, culminating in the launch of the New Yorker Magazine just a few weeks ago. Over the coming months, we'll be adding Saga, MLex, National Farmer's Union, American Chemical Society, Dungeons and Dragons and Golf Digest to the list along with a host of other titles that will keep even the most voracious reader occupied until the end of time.
Eighteen months ago we made a fundamental shift in our company strategy towards partnering more closely with our customers to help drive our product development process and to allow for much more customisation of our products – this way you get exactly what you want out of our platforms and we get the best possible input into our product roadmap. Tortoise was the first great example of this strategy and we're now pleased to say that we're working in close partnership with more clients than ever today. Last week we launched a new fitness app for Hearst, based on Pugpig Publish and we've got some even more exciting projects with them in the works (sadly we can't say any more right now!) We're also working with one of the biggest UK newspapers to launch a highly customised Bolt app in the next month – more of that in our winter update.
If you'd like to hear more about how you can work with us to create highly customised versions of our platforms and to have a hand in our product roadmap please do get in touch.
Finally, we're growing faster than ever and we're looking for great people to join the team both in London and New York. If you know of any budding salespeople, developers, testers and customer success gurus we want to meet them – please feel free to send them in our direction!
If you have any feedback on this update, or you'd like us to give you a more in-depth view on anything at all, please do get in touch and we'll set up a chat. Until next time…
Jonny and Jon
Apple News and Apple News+
As we mentioned in our last newsletter, Apple News + is coming soon. The latest estimate on launch date is some time in September (although as always, no official announcement has been made) and we're expecting a fairly good showing from the consumer magazine publishers for launch. The service will be live in the UK and Australia (following the launch across North America earlier in the year) and we're all kitted out to help you get onto the platform – in fact we already syndicate to Apple News and Apple News + for publishers through our Pugpig Express plugin.
It's worth saying that if you aren't part of the Apple News + launch and you're looking for ways to reach new audiences, you can use the existing Apple News service with pretty much no effort at all if you're on Pugpig Express. It's a great sampling platform to drive traffic to your sites and apps and you can even plug it into your existing subs set up. Just get in touch if you'd like to know more…
Product Update from Harry
As ever, we've been busy building new products and keeping our existing products ahead of the curve and at the top of their game. Here are some of the best bits that we've been working on over the past few months:
PUGPIG BOLT
Audio | Podcasts are becoming an ever more important part of a publisher's content mix. We want to give our customers the ability to bring this content front and centre and provide a powerful listening experience for the user.
With Pugpig Bolt's brand new audio player, editors can embed audio directly into the content, for the user to begin playing at the touch of a button. Then, our slick new UI enables them to control playback from anywhere in the app. Additionally, you can continue listening to audio when the app is in the background, keeping your user connected long after they've put their device away.
Private timelines | Bolt has long offered the ability to put your content behind a paywall, but what if you don't even want to show this content to users who don't have access to it? Don't fret, we've added the ability to hide timelines behind your entitlement system, meaning some timelines can be seen by anyone, some can only be seen by signed-in users and, even better, you can tailor this list on a per-user basis, so users are only shown the content relevant to them. This is perfect for high-value content, or publications with so many timelines that an uncurated approach could prove overwhelming.
Social features | We're now working on integrating social features into Bolt, allowing your users to create posts, comments, likes and groups – helping you drive ever deeper engagement with your audience. Expect more news later in the year on this one.
PUGPIG SITE
Pugpig Site has enjoyed a glorious start with launches for Tortoise, Springwise and Poetry Out Loud. Now we're now hard at work honing the product offering, with more sites going live in the coming weeks and months.
Our first sites ticked all the boxes we were aiming for. Stable, blazing-fast performance (We mean it: scoring 98% on Google's PageSpeed Insights) coupled to a powerful, intuitive CMS.
Our focus now is on expanding the number of ways you can build your page, with out of the box integrations for widely-used plugins like Zendesk and Mailchimp, new layouts and perfecting our search tools.
PUGPIG PUBLISH
Pugpig Publish is as strong and stable as ever, but that doesn't mean it isn't deserving of a bit of polish. We've added a good handful of improvements to the look and feel of the platform over the past few months.
Enhanced support for PDF replicas – While we will always believe that HTML is the best way to deliver your pages to your readers, PDFs are often a popular choice for publishers to create a digital facsimile of the printed page. And given the large number of regional newspaper publishers we've recently brought onto the platform who often opt for this approach, we're kicking off a major project to fully upgrade our PDF reading experience. Much more on this coming soon.
We've recently added support for animated covers. A simple change that can bring a spark of life to your storefront. We're also now giving you the option to use rounded buttons throughout the app and we've spruced up our settings and account management screens, giving you more flexibility in how these screens are laid out and the information you can include on them.
And then there's accessibility, something we take very seriously. A number of our customers have submitted our products to their routine accessibility audits, and we've enthusiastically applied any feedback to our products. One of our driving goals at Pugpig is to help publishers bring their content to as many people as possible, and continuing to meet the highest standards of accessibility is one way we're going to achieve this.
INTEGRATIONS
On the push front, we've beefed up our Airship integration on Bolt, with the ability to automate push notifications from your content feed. Thoughtful use of this tech can prove a powerful editorial tool.
We've also implemented Appsflyer on Bolt, giving you more insight into where your users are coming from. You can never know enough about acquisition, but we want to give you the best chance possible of identifying where your users are coming from, and how you can hopefully get more of them.
Latest Pugpig-powered app releases
The New Yorker
Yes, we finally did it. The New Yorker Magazine launched on Pugpig Publish. This marks the beginning of a global deal that we recently signed with Condé Nast to launch apps on Pugpig across their entire portfolio of titles in the USA, France, Germany, Russia and Taiwan.
Download here for iOS
JPi Media
In just ten weeks from kick-off to launch, the Pugpig team migrated all eleven JPi Media titles onto the Pugpig platform. All employ a fully automated editorial process that allows the JPi team to publish daily editions with live content feeds and puzzles all with no editorial effort. Follow the link here to have a look and download the full list of the titles that we launched.
Springwise
After having launched Pugpig Site just a few months ago, we migrated the Springwise team onto a shiny new, fully hosted platform which is now operated and maintained by the Pugpig team. It's lightning-fast, beautifully mobile optimised and super simple to use.
How to Spend It by the Financial Times
We celebrated bringing How to Spend it from the FT onto the Pugpig Publish. The app brings together the bi-weekly magazine alongside a live feed of content from the HTSI website. This allows the FT team to bring their readers into the app on a daily basis and offer their advertisers deeper engagement than they can offer on any other platform.
Download here for iOS.
The World's Fittest app by Hearst
The World's Fittest app is the third in our series of fitness apps for Hearst magazines (and it won't be the last!) It brings together Men's Health and athlete-adventurer Ross Edgley, collaborating to create a unique app which offers the choice of four individual 12 week fitness training plans, designed using simple moves, each with step by step instructions and easy-to-follow video demonstrations. The app is powered by Pugpig Publish and is available on Apple and Android devices.
Upcoming events
ONA19 | 12TH – 14TH SEPTEMBER IN NEW ORLEANS
We'll be setting up our Pugpig stand once more for the Online News Association annual conference in New Orleans – come and say hello if you're in town.
ADWEEK NEW YORK | 23RD – 26TH SEPTEMBER IN NEW YORK
Just around the corner from Pugpig US HQ, we'll be onstage at the biggest event in advertising to talk about how publishers can increase subscriber engagement.
IFRA DIGITAL CONTENT EXPO (DCX) | 8TH – 9TH OCTOBER IN BERLIN
The Pugpig team are quickly becoming part of the furniture at this global coming together of news media organisations. Come and visit us at our stand to get an update on all things Pugpig.
PUGPIG CUSTOMER DAY | 10TH OCTOBER IN KING'S CROSS
We'll be sending invites out for this event in the coming weeks, but in the meantime, stick the date in your diary – this year promises to be a cracker…
LION PUBLISHER SUMMIT 2019 | 24TH – 26TH OCTOBER IN NASHVILLE
This year marks our first time sponsoring the Local Independent Online News Publishers (LION) event in Nashville – pop over for a chat if you're in town (and maybe we can nip out for a bit of Bluegrass while we're there…).
FIPP WORLD CONGRESS |12TH – 14TH NOVEMBER IN LAS VEGAS
Another event where you'll always get to meet a few of us from the Pugpig team – this time focused on consumer magazines. If you lose your shirt in Vegas, we'll gladly pick you back up (and maybe even give you a demo of one of our latest launches to cheer you up…).