Welcome to the inaugural edition of Pugpig's new weekly media intelligence roundup where we highlight some of the best ideas in the business of digital media. Each week, Pugpig's Kevin Anderson – who has a background as a senior editorial leader for newspapers and broadcasters, a digital media consultant and a digital product director – will distill the best strategies and tactics that are driving growth in audiences, revenue and innovation at digital media businesses around the world.
Regional Media Turn to Membership
From Gloucestershire to Kansas, the regional press is experimenting with new business models. In Gloucestershire, the business news and entertainment website SoGlos believes that a free membership model is key to changing the fortunes of regional publishers, according to the Press Gazette. The membership model will allow users to share their interests and save their favourite stories. While they believe membership will increase engagement, it will also net data for the publisher. Owners Michelle and James Fyrne, who gained publishing experience in the Middle East, think that the model will 'revolutionise' regional media in the UK. It will be fascinating to watch and great to have another model to test.
In Kansas, where I got my start in journalism, the University of Kansas and researchers from other universities across the US are partnering with local media to combat the decline in local newspapers in the US, particularly in rural areas. The university researchers found that many local outlets are still using the twin pillars of the 20th century newspaper business model, subscription revenue and advertising, and that they are actually reluctant to experiment with new revenue streams. However, University of Kansas associate professor of journalism Teri Finneman is not only encouraging publishers to try out new revenue opportunities such as newsletters, events and membership, she is working with a young local publisher in the state, Joey Young, to test some of these revenue ideas. Four years ago, Young launched a blues festival in one of his markets, and he's now testing an "exclusive membership" scheme called Press Club. It looks to engage local civic leaders and organisations in a paid membership scheme.
It is wonderful to see this kind of experimentation at small, local outlets because from my experience in the industry, some of the revenue models used by national or international outlets don't scale down to the local level, particularly the models that look to achieve scale through consolidation to drive advertising revenue. Those models have run into the headwinds of the big tech platforms. But the ideas that Finneman is proposing leverage the relationships that local news outlet have or need to develop to attract paying subscribers or members, sponsors and supporters.
Experiments Highlight Misalignment in 'User Needs'
Dmitry Shishkin, a former BBC leader and now independent consultant, developed the 'user needs' model when he was with Auntie, and while FT Strategies says that it is a way "for newsrooms to do more with less", I would argue that it is a very clever product-thinking framework that helps news leaders have a richer understanding of why audiences actually consume news. The model breaks down content into six motivations that audiences have:
Inspire me
Divert me
Educate me
Give me perspective
Update me
Keep me on trend
I love how the model is centred on the audience's point of view and the actions they take. FT Strategies conducted research in three UK newsrooms to measure how many stories each newsroom created in each category and how many pageviews and how much dwell time could be attributed to those categories. What they found was a misalignment in the content that publishers were producing and the attention that users were paying to that content.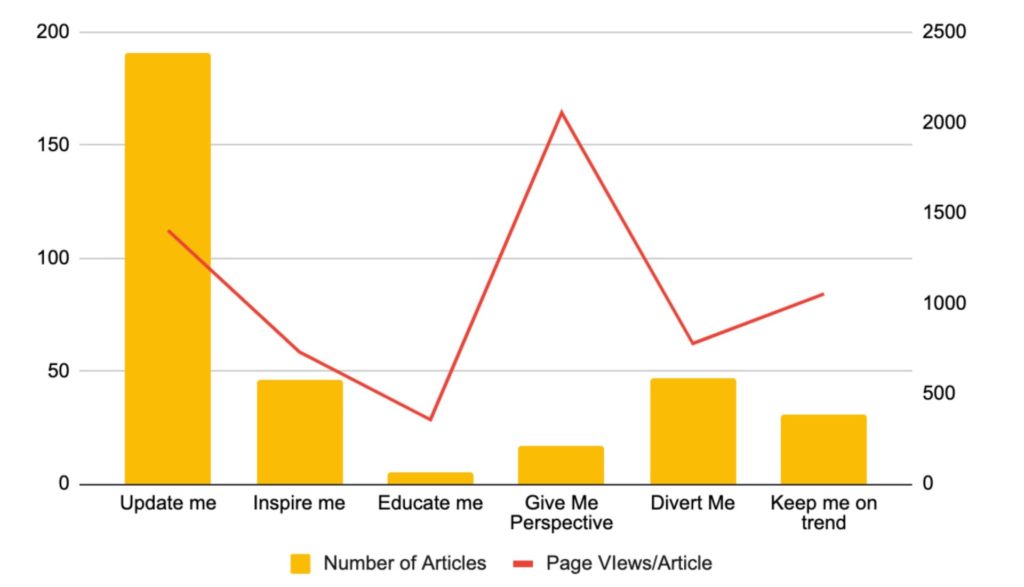 Journalists often view their mission as to inform people, which falls primarily into the update me categories, but the model reminds us of the variety of motivations that people have in engaging with publishers' content. FT Strategies provide a ready-made recipe to run this experiment in your own newsroom or organisation. One thing worth noting though is that Dmitry says that the model is relevant about 80 per cent of the time, but there are specialist publishers focused on specific verticals where the model might not work such as fashion mags looking to help people stay on trend.
How media can transform their business through data
In my previous role as the director of digital products and platforms for a large regional public broadcaster in the United States, my manager and I introduced a product development framework to help guide our product roadmap and provide some criteria for greenlighting projects in our product portfolio. When we started that journey, I asked Anita Zielina, who is training the next generation of digital media leaders at CUNY, what the first step we needed to take to become a product-led organisation, and she responded with one word, data. It gave us the confidence to make decisions and also a way to communicate and explain the choices that we were making to everyone in the organisation from staff to senior leadership.
Silence Mugadzaweta, the digital and online editor for Alpha Media Holdings in Harare, Zimbabwe, highlighted a report from Deloitte for INMA that looked at how media businesses can use data to support the digital transformation of their businesses. Deloitte looks at the role that data plays in the context of three objectives that news and media companies have:
Increase audience engagement
Grow audience revenue, either through subscriptions or memberships
Drive revenue from advertisers
They then break down these three objectives into a three activities for each that news and media companies can do to achieve their goals.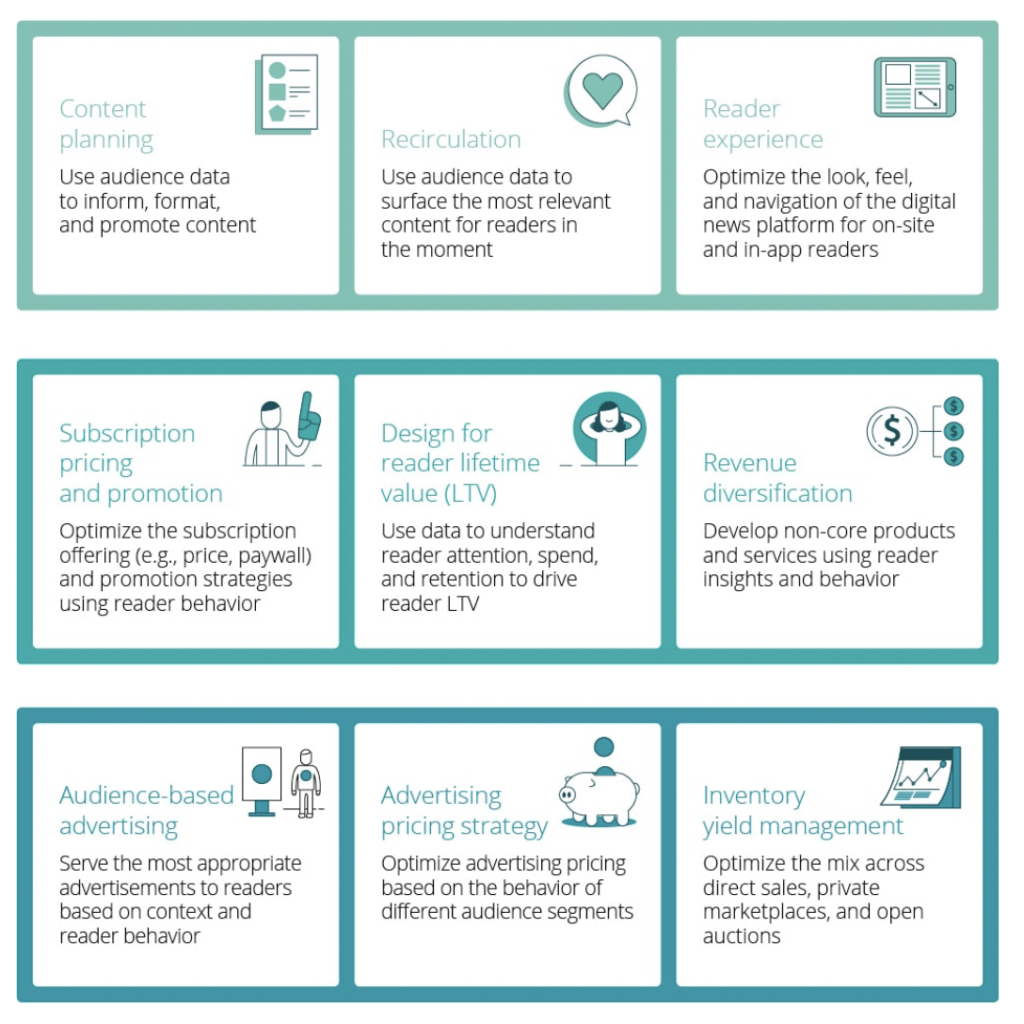 Deloitte surveyed news and media companies and found that only 9 per cent had achieved the highest maturity level in their use of data. At Pugpig, we are developing a set of strategic services that will help you achieve your audience and business objectives, not only in terms of implementing analytics systems on our platforms but also in supporting your teams to turn analytics into insights.
Industry News
Each week, we'll also collect some of the most important headlines about the business of news and publishing as well strategies and tactics in product management, analytics and audience engagement.
Sign up to subscribe to the Pugpig Media Bulletin, which continues below.
Get the weekly Pugpig Media Bulletin in your inbox
Be the first to hear tips, tactics and strategies from leading media companies around the world, as well as the latest news in our weekly media bulletin.