In Pugpig's weekly media bulletin, Pugpig's consulting services director Kevin Anderson distills some of the best strategies and tactics that are driving growth in audiences, revenue and innovation at media businesses around the world.
Señor: Publishers pushing innovation after pandemic
The pandemic has accelerated change at publishers. according to Juan Señor, president of Innovation Media, and he told INMA's Asian members about the trends that he sees driving the industry in the coming years. His presentation summarised his consultancy's Innovation in Media 2022/2023 World Report that looked at six major shifts in technology that will help publishers adapt to changes in the industry. The report and presentation look at both near-term changes such as a cookie-less world and its impact on advertising and rapidly developing technologies such as artificial technology. Not all of the drivers of success have been futuristic innovations but rather 'old is gold' formats including audio and newsletters, the latter which has proven "the single most versatile and valuable tool in a publisher's arsenal". Fundamentally, the thread that connects the old and new, the tried and tested and cutting edge innovations is the goal of publishers connecting directly with their audiences.
Sign up to get the Media Bulletin in your inbox.
While the past two years delivered their share of business challenges for publishers, they also ushered in a golden age for subscriptions as people sought out news and information from trusted sources. As this pandemic-driven surge of subscriptions starts to ebb, publishers will have to develop strategies to retain as many of these paying readers as possible.
To manage this mix of old and new, news organisations need to invest in their product teams that reach across the editorial, commercial and technical boundaries in their organisations and help keep audiences at the centre of their efforts. Pugpig's consulting services can support you in developing products using our platforms that build direct relationships with your audiences and help you attract new audiences and retain subscribers.
The rising cost of print as publishers see it as a 'luxury product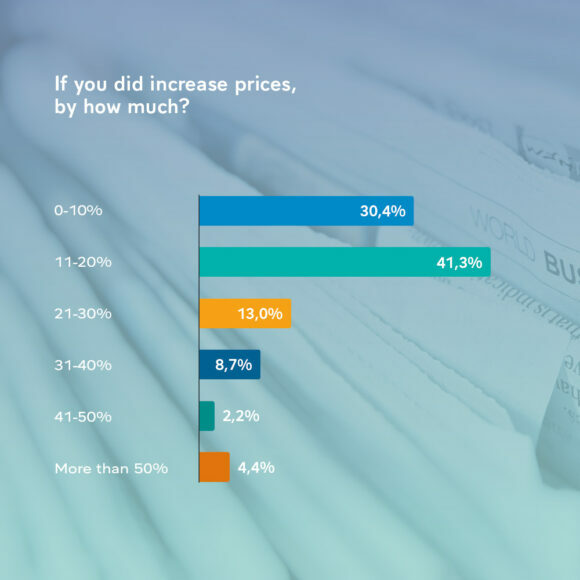 Two stories in the past week highlighted an interesting trend in publishing in which print becomes a higher-priced, even luxury product. WAN-IFRA surveyed 75 publishers in 32 countries , and one of the questions that they asked was whether they had raised prices in the last 12 months. For those who did raise prices, they wanted to know by how much and how it had affected circulation. They found that 65% had raised the price of their print products in the last year, with some papers, 16%, raising their rates by more than 30%. Half of those who increased their rates saw "little or no change in churn". And half of the publishers planned to raise their prices again this year.
That is data from the newspaper world. What about magazines? IAC, which acquired magazine publisher Meredith last year, ended the print runs of several well known US titles including Entertainment Weekly, InStyle, Health, EatingWell and Parents in February of this year. However, the titles that will remain in print, including Food & Wine and Better Homes & Gardens, will go up market with upgrades such as a higher grade of paper, the Hollywood Reporter said.
What gives? Well, DotDash Meredith CEO Neil Vogel said on an investor call that these magazines were now seen as "a little bit more of a luxury good". The company doesn't see print as a major economic driver, but print will remain "a very important brand driver for everything we're doing". Meanwhile, they are looking to grow digital revenue by 15 to 20% year-over-year. Their goals are to drive "consumption, engagement and premium sales", said Christopher Halpin, IAC's chief financial officer. Where do you see print and digital in terms of your portfolio? Get in touch.
Revenue diversification and experimentation showing results for local US news outlets
The Medill State of Local News 2022 Report paints a sobering picture of the loss of local newspapers in the US, with more than a quarter closing since 2005 and another third to disappear by 2025 if the current trends continue. As Tim Franklin at Medill's Local News Initiative says, aggressive cost cutting has not worked, but he goes on to highlight how some local digital news outlets and papers are bucking the trend of decline and closure by experimenting with community engagement and diversified revenue streams.
They have developed business models that stress diversified revenues sources, a laser-like focus on readers' needs and behaviors, high-touch engagement with the community and trustworthy journalism.

by Tim Franklin, Local-News Business Models Emerge, from Northwestern University's Local News Initiative
Some of these projects are new and digital like the Richland Source in Ohio or The Shawnee Post in Kansas, while other projects like The Pilot in central North Carolina have long histories in print. A couple of themes emerge from these case studies: Community engagement and revenue diversification. As Franklin writes: "Best source of revenue? All of it". At The Source:
Advertising makes up 35% revenue
A nation-wide marketing services delivers 27% of revenue
Philanthropic support from foundations and the Google News Initiative another 21%
Membership makes up the remaining 17%.
The Pilot in North Carolina has an even more novel revenue mix. Two decades publisher David Woronoff decided that doing nothing was not an option. He bought a statewide business magazine and four lifestyle magazines, which now make up the majority of the company's revenue. Like The Source, The Pilot expanded into marketing services, and he also bought and operates a local independent bookstore that not only adds to the bottom line but also keeps the publisher and his publications connected to the community.
Traveling west to Kansas, Jay Senter and his wife Julia Westhoff launched The Shawnee Post when the metro paper in Kansas City closed the local edition covering their suburb in 2011. What stood out for me was that they felt that their subscription business kept them closer to their audiences than a non-profit model would. Senter believe their for-profit model "incentivizes us to produce the kind of content that is going to get the most buy-in and engagement from our community".
While there are common threads in these new successful models, they are as different as the communities that they serve, but it's promising to see these editorial and commercial experiments begin to show a way forward for local media in the US.
Industry News
Here are some of the most important headlines about the business of news and publishing as well as strategies and tactics in product management, analytics and audience engagement.