We're hugely proud to be the technology platform of choice for leading local news publishers in the US, UK and Australia. From the San Jose Spotlight and the Crain Communication Business titles in New York, Chicago, Detroit and Cleveland, to JPI and MNA Digital and Australia Community Media – we know the importance of providing high quality digital product experiences for regional and local news readers. We believe that publishing is important and that it has a great future, and local news is vital to the communities that its journalism serves.
That's why we're pleased to announce that we are gold sponsors for America's Newspaper's Spring PIVOT 2021 Conference next week on May 11-12th. We're happy to support a worthy membership organisation that provides so many great resources for the American newspaper professional community. We applaud its endeavours to support local community journalism, while also advocating for the industry as a whole.
The PIVOT 2021 Conference, held virtually this year, has an impressive agenda including a session led by Senator Maria Cantwell (D-WA) on legislative priorities in the US news media. It also features John Streitmatter, Director of the Leadership Research Institute on the topic of personal resiliency, which is particularly poignant after this past year. Other sessions focus on branded content, local advertising and much more. There's still time to register for the conference next week – registration for your virtual attendance is open here.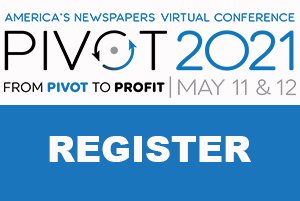 We hope to see you at PIVOT next week! And, if you think Pugpig can support your paper or local news efforts, please do get in touch!