In the Pugpig weekly media bulletin, Pugpig's consulting services director Kevin Anderson distills some of the best strategies and tactics that are driving growth in audiences, revenue and innovation at media businesses around the world.
WAN-IFRA: There is gold in audience niches
The theme this week is focus, both in developing content for specific audiences and also in refining the metrics you use to make sure that you are measuring the outcomes that are most strongly correlated to your editorial and business success.
With respect to serving specific audiences, WAN-IFRA leads the Table Stakes Europe project. The project is underpinned by the belief that there are seven key skills that media companies need to succeed in the 21st Century. The first skill is to "serve targeted audiences with targeted content and/or experiences". It is part of the core "audiences first" set of skills. The other two skills are that publishers need to push content to platforms used by the audiences that you are targeting and that they need to push that content to match your audiences' lives.
Sign up to get the Media Bulletin in your inbox.
It speaks to WAN-IFRA's conviction about these beliefs that it begins the report by boldly saying: "In other words, providing general news to the general public is no longer enough." For some in the news industry, those might be fighting words. But when you look at successful publishers like the New York Times, their super bundle includes news but surrounds it with niche products like cooking, reviews and puzzles.
WAN-IFRA's latest report on the Table Stakes Europe project looks at a number of publishers targeting a range of audiences including young readers, local sports fans, those interested in crime and families as well as other niches including foodies, religious groups or cross-border commuters.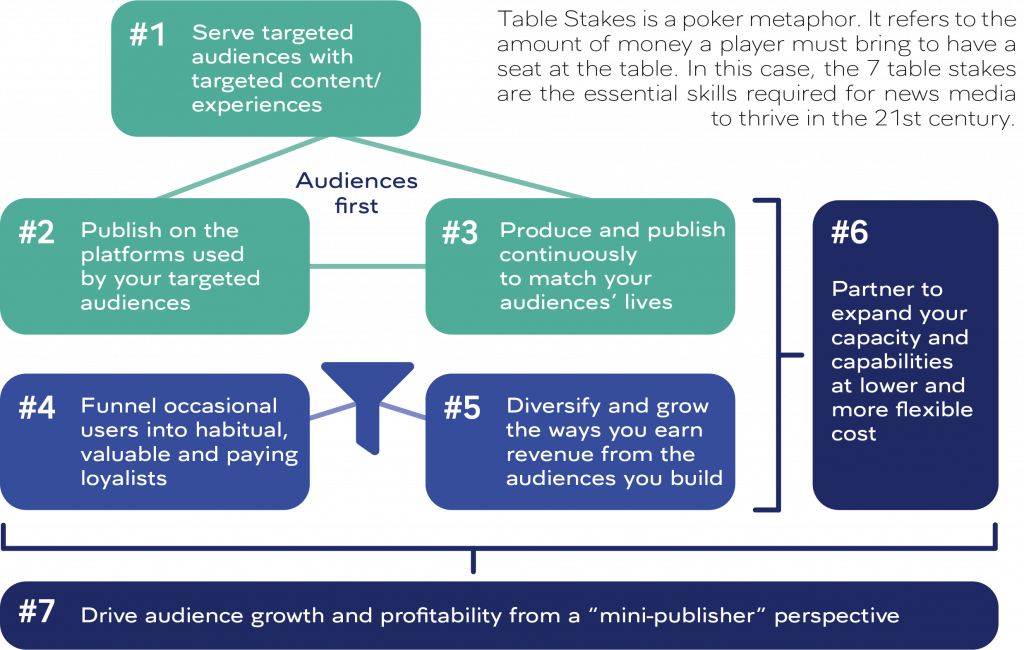 The Tables Stakes framework was developed by Douglas K. Smith, and echoing the Media Bulletin's reflections on the attention economy from last week, he asks, "Is your news enterprise winning the battle for the scarce time and attention of audiences?"
Go deeper with audience research
One key element across many of the projects is user research and a discovery phase that moves from demographic generalities to uncovering specific needs and interests of their target audiences. For instance, NWT in west-central Sweden wanted to grow its younger audiences because the average age of its print readers was 71. They initially wanted to target audiences under 45, but they quickly came to understand that this focus was too general. Readers in their late teens or 20s have different interests than those in their 30s and early 40s. Focusing their research, they found that readers 18-29 were interested in entertainment, stories about relationships, careers and breaking news, while readers 30-45 were interested in investigative pieces, real estate, stories about new stores and restaurants as well as kids and family life. Based on this, they developed features covering these topics using new formats that included live reporting and interactive chats focused on young audiences. This new focus helped them hit their audience and subscriber targets.
Experiment with formats that the target audiences use
Another table stake is to publish on platforms used by target audiences, and that requires publishers not simply to think of the platforms but also the content that is native and authentic to those platforms. For that reasons, experimentation with new formats is a common theme amongst the projects, whether that is explainer videos on TikTok to build brand awareness of Le Parisien amongst young audiences or live video and a podcast to engage the fans of a German basketball team at Fränkischer Tag. While many of these experiments are focused on lifestyle, entertainment or sports content, format experimentation was also a part investigative coverage. Schwäbisches Tagblatt in southwest Germany launched a true crime podcast to connect with women and younger audiences. The newspaper decided to focus on crime coverage because their metrics have shown that many crime stories drive at least one new subscription.
Leaning into verticals and formats that drive subscriptions
And that highlights another of the many themes explored in the reports: Publishers used data to understand what activities related to specific audiences drove subscription growth. The report highlighted the work of a Scottish investigations team with publisher DC Thomson. The team has released three 40-minute documentaries, and the metrics show a high level of engagement for them with 60% of the viewers of one doc watching 90% of it. In addition to careful choice of the content, DC Thomson connected them to its conversion funnel. They were only available to subscribers or to those who signed up for a trial, and one of the docs netted the paper covering the region 1000 sign ups. At the very least, they will have added to the known users, which they can now target more effectively with advertising and subscription marketing And while these long projects take time and effort, they also have a long shelf life in terms of conversion. An earlier text-based investigation is still driving subscriptions two years after it was published.
FT Strategies: How audience centricity drives subscriptions
DC Thomson brought together its journalists with marketing and other departments to deliver on its subscription goals for its investigations, and FT Strategies covers the kind of organisational and operational change needed for projects like this in its third report on building a successful subscription business. As the report says:
To compete in a crowded subscriptions field, products must be fully optimised to subscriber wants and needs, meaning that the entire content strategy must be aligned with the subscriptions objective.

ORGANISING FOR SUBSCRIPTIONS GROWTH, FT Strategies
While the report goes into depth about breaking down silos and encouraging collaboration across departments, I'm going to focus on one element of the report, which is audience centricity. It's important to tease out exactly what they mean in this context, and it's best understood as the M and R in SMART goals, that goals need to be measurable and they need to be relevant to broader goals, in this case driving subscriptions. And the report highlights the need to add new KPIs but rather reconsider the metrics you might be using.
Rather than measuring volume and chasing clicks, the metrics that FT Strategies are advocating require an audience centric focus that differentiates anonymous, loosely attached "fly-by traffic" from engaged audiences likely to convert and drive subscriptions. It is a shift away from purely volume based goals to engagement metrics such as RFV, which in this context stands for recency, frequency and volume.
Recency – How long since a user last visited?
Frequency – How often does the user visit?
Volume – How many pieces of content does the user read, listen to or watch?
For years, the FT has been using this calculated metric because they have found that it is highly correlated to churn and retention. And they communicate and contextualise this data across the organisation so that all departments know the role that they play in achieving subscription growth and retention.
That's an example from the FT's own experience, but the report highlighted experiments that other publications ran as part of FT Strategies' Subs Academy. For instance, Italy's La Repubblica tested different variables that affect a reader's purchase decision such as subscription trial length, introductory pricing or the calls to action. The experiment not only helped the paper better understand what affected its audiences' decision on whether to buy a subscription but also increased the paper's commitment to experimentation as the way to improve its performance.
While the typical view of audience centricity is about understanding the needs of audiences, which is important, this framing is actually about segmenting audiences more granularly so you understand the factors that might lead them to become paying customers. While the report is solidly grounded in the FT's experience which is highly evolved and sophisticated, the examples from the Subs Academy are from publishers at several stages on their transformation journeys, and I'm sure reading between the lines of their stories that you'll see plenty to relate to in your own experience.
Pugpig Consulting Services is working with our clients to develop analytics strategies that track conversion, and we can also support your audience research efforts so you can dive deeper into targeted content. If you want to learn how we can help you, please get in touch with us at info@pugpig.com.
Industry News
Here are some of the most important headlines about the business of news and publishing as well as strategies and tactics in product management, analytics and audience engagement.